Dubai Exporters is an online Web Portal for Exporters, Manufacturers & Suppliers. These Companies are listed as per their respective categories and comprise of complete contact and product details so that the search effort of the interested client is minimized and more target oriented.
DubaiExporters.com went online in 2004 with a mission to facilitate UAE exports worldwide. Primarily, the portal provides information on UAE manufacturers and exporters assisting importers and buyers worldwide to source products, equipment, machinery and services from UAE. Besides it is very informative in terms of news, research, statistics, trade fairs, conferences etc. connected to UAE and worldwide.
There are several benefits for members such as:
Participation in several foreign trade fairs within DubaiExporters pavilion.
Reaching buyers worldwide through the website directory, banners & online showroom.
Reaching buyers worldwide through regular newsletters.
A Preview of Dubai's Exports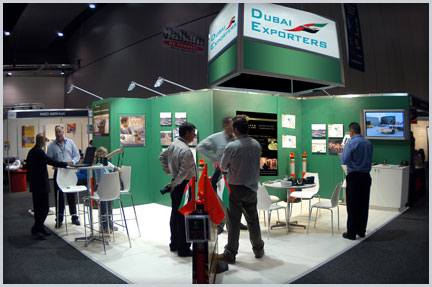 Dubai's non-oil export / import has been growing by leaps and bounds since early 80's. These figures are certain to gain further momentum in the coming years as many of the economies of the region (which are being serviced by Dubai) are still at a relatively early stage of development. As a major supplier of goods to such emerging markets as India, the CIS, Central Asia and Africa, Dubai is well poised to further strengthen its status as the distribution hub of the Middle East. As one of the most active and outgoing markets in the region, Dubai has the potential to promote almost any
type of goods and services. DUBAI is also know as the "THE CITY OF MERCHANTS ". as it also emerges as one of the leading supplier of consumer and capital goods to many countries in Africa.
The improving economic and political situation in many East African countries has resulted in greater buying power for the average person in Africa and has in turn boosted demand for consumer goods. Favorable economic policies adopted by many African countries have also attracted foreign investments in industrial and manufacturing projects - mainly in the several Export Processing Zones (EPZs) that have come up in countries like Kenya, Uganda and Tanzania in recent years. This has resulted in greater demand for capital goods, machinery and raw material - a demand that is being met by many Dubai-based enterprises.
The growing demand for goods in Africa is clearly reflected in statistics. Shipping lines servicing the Dubai-Africa route are experiencing a welcome rise in business with the coming of African bulk buyers during the past two to three years. Among the major destinations of UAE exports are Nigeria, Mauritania, Senegal, Gabon, Ghana and the Ivory Coast in West Africa, and Tanzania, Uganda and Kenya in East Africa.
Thus, it is a proven fact that Dubai has emerged as one of the leading supplier of goods to many countries in Africa. Many Africans are now travelling to Dubai in increasing numbers to purchase goods and to make direct contacts with suppliers and manufacturers. However, with the development and expansion of internet services in the African region now, trading online is one of the most effective, time saving and economical medium now. A lot of importers prefer to do business online now, by finding their suppliers over web portals and business directories and to assist them in doing so, we have introduced the platform of " Dubai Exporters " which makes it very simple and convenient for companies to target the UAE market.